January 9th, 2017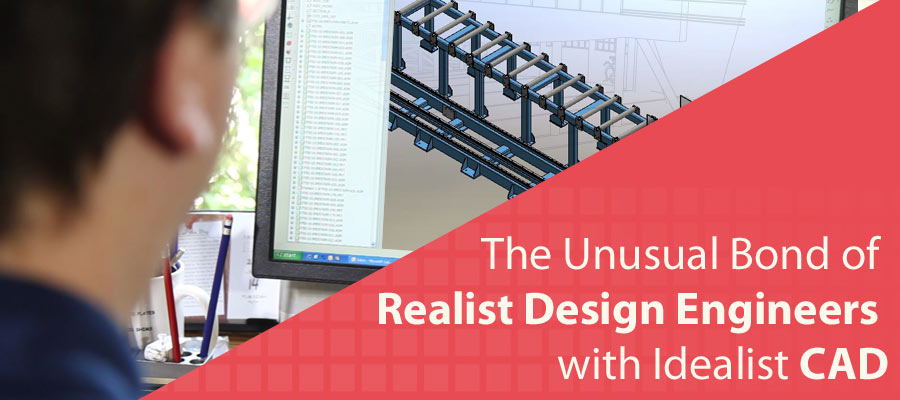 Technology has a strong hold over delivering what the market demands, based on the idealistic, chronic engineering principles; and on the other hand, we have realist, young engineers handling that very same technology. This seems a little incongruent; however, it is the fact.
Being a little explicit here, realist engineer points to, a professional who is open to try new ideas, technologies and innovations with a thoroughly verified process. In fact, it may surprise you that, these realist engineers know how engineering works internationally and aren't afraid to practice it and adopt it by collaborating with their counterparts in any part of the globe. And, to describe a stringent technology, it is the software to deliver engineering designs in form of 3D CAD modeling and design drafting based on the ideal, flawless engineering principles.
Bonding between the two has grown so strong that the idealistic CAD software has become the basis for the realist design engineers to try, experiment, practice and succeed for their new ideas and innovations for product designs. These young engineers are driven by a force to develop and amend the existing product designs by the collective inputs of logical programming and geometrical designs based CAD software.
Although the driving force only is not enough to deliver and steer major engineering giants. They need confirmation to the design amendments and safety validation for launching them in the market, the exact capabilities of CAD software.
Proof of broken monotony
In the support of 'the broken monotony' fact let us have a walkthrough of one such instant.
Engineers at a design outsourcing firm were working on 3D design customization and fabrication drawings project for a metal fabricator client in Europe, for the design customization of stair lift. The task was of dealing with design customization according to several international standards, with an aim to reduce the lead time. Obviously, the first major challenge was to convert the fabricator's legacy of paper drawings to digitized design in CAD software through SolidWorks and align them with available bending machines at the client's end. This was necessary in order to manage the design data across multiple international standards for the chairs and lift, alongside eliminating the repetitive design tasks to optimize the manufacturing lead time.
Maintaining all these vital aspects and engineering functionalities were achieved through SOLIDWORKS API along with AutoCAD and a bit of programming using C++. The task was successfully pulled through the design customization process for such a huge variety of design data by maintaining the database using SQL DBMS in conjugation with CAD software. In addition to this, the engineers successfully delivered fabrication drawings for the product using special tools and macros along with design simulation for various design parameters.
Conclusion
Today, product designs have reached at a stage where experienced engineers are of strategic importance to the design firm for their knowledge. But, the leading ones understand the value of new crew of engineers too, carrying an outgoing practical approach and more than that, the need to test and verify this approach through CAD technology. CAD has aided the design and engineering firms, right from the concept evolution stage, in design planning, strategic product development, rapid prototyping for simulations and lean manufacturing principles.
Going a step further, CAD essentially can deliver what the engineers strive to meet in terms of sustainable environment, cost effective solutions and on-time product launch. In this unusual time of innovation, the bond that the realist out-of-box thinking engineers share with the idealist CAD is of vital importance.