December 20th, 2016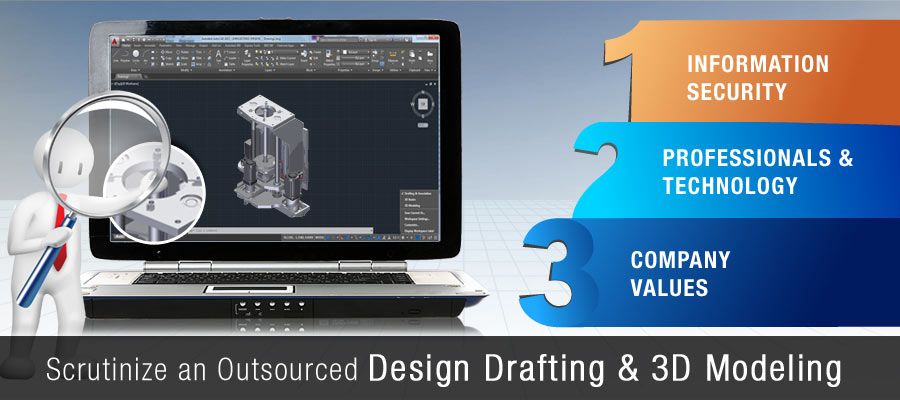 In 1990s, outsourcing emerged as a suitable option, when companies began to concentrate more on cost. During early stages, work that was necessary to run the company but not the core business functions was outsourced.
Getting the work done by an outside entity, off course resulted in cost cutting, but gradually the management of these companies resorting to outsourcing realized another benefits like quality. For design and manufacturing firms, outsourcing turned out to be a boon. For any product development or enhancement, design drafting and 3D CAD model generation ate up most of the time, leaving engineers no scope for innovation.
However, with CAD design drafting and 3d modeling support solutions from an outside source, there is always a threat of design being leaked and other information security breaches. To avoid such risks, there are three simple basic rules any engineering or manufacturing firm should follow before choosing a vendor to outsource their designs.
Rule # 1: Check for information security assurance and privacy policy
Design leaks and client's information strategy is a major threat to engineering and manufacturing firms in order to stay ahead in market competition and to maintain uniqueness of your product. In order to ensure, the engineering firms should resort to vendors who have a past track record of same works with named clients, trustworthy relationships, bidding requirements and security clearance.
To ensure the vendors authenticity and integrity make partnerships with the vendors who are ISO certified for quality management systems and for information security management systems. Furthermore, the firms need to get a non-disclosure agreement signed by the vendor before venturing into business.
Rule # 2: Professionals, engineers and software requirement
To achieve quality output and reflect it upon your product, get designs drafting and 3D CAD model generation done by the best draftsmen. When outsourcing; manufacturing firms need to ensure that the fabrication drawings and manufacturing delivered by the vendor meets the quality demanded by their manufacturing engineers and shop floor workers.
Software used by the company reflects their model delivery time and quality. Software in common use with the outsourcing vendor usually includes AutoCAD, SOLIDWORKS, Solid Edge, Creo, and Inventor. However, the manufacturing firms need to ensure that the software in use with vendor complies with their design requirements.
Appropriate technology usage with a fine blend of knowledgeable professional engineers is the best combination to generate desired output. Wide knowledge base, ample drafters and professional experts essentially removes bottlenecks within the entire drafting and 3D CAD design process. These professional should be able to deliver uniform design in ASME– American Society of Mechanical Engineers, BS– British Standard and ANSI– American National Standards Institute standards for all the geometrical and dimensional features.
Rule # 3: Matching of company values and objectives
Matching your company's values and objective with the outsourcing vendor is important, because if the drafter at vendor's end is on the same page as the design firm, the drafter would be swiftly able to deliver the design with utmost sincerity. If not, there will be difference of opinions and ways of approach for design development.
In this scenario, even if the vendor has finest professionals, it would be of no use to design firms for moving ahead in the product development. Thus, it is important to have a vendor whose objectives and values are same as that of yours; if not same but it still should have significant overlapping of opinions for easy product development. Commitment and integrity lies at the center of any company's values and they are to be met by the vendors as well to deliver what an engineering firm needs.
Conclusion
With proper precautions and verification of integrity and authenticity of outsourcing vendors, engineering and manufacturing firms can benefit the most. Venturing in a partnership with the best CAD model developer is not enough, it requires compliance of design standards, software, values and quality authorization with non-disclosure agreements.