February 1st, 2017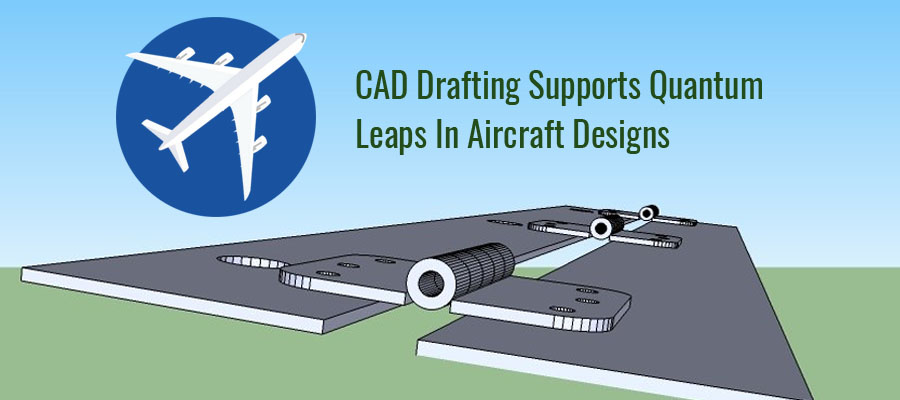 How does one define complexity? Well, supposedly, if this question is presented to a CAD design engineer, the engineer would be completely able to relate since he deals with complex geometry in modeling the everyday iterative designs. When the designing burns down to aviation industry; design accuracy becomes fairly extensive. Manufacturing of aircrafts and its components make substantial usage of sheet metal for almost every component. When seen from outside, it seems quite simple in cutting or bending thin sheet of metal.
However, the physics begin to alter soon as even a small bend is applied on the sheet. Not only physics, but the state-of-art of the aircraft is also a factor to be considered when designs are being finalized. This makes it tough for fabricators to balance both the aspects of economics and aesthetics. CAD drafting of sheet metals fabrication components make the complex designs possible abiding both these aspects.
How significant is sheet metal used in aircraft industry?
Sheet metal that is used has a flat pattern on the surface. While cutting out the sheet metal as per the need and shape of component application. Aluminum sheet metal is used in aircrafts and is considered to be the standard type due to its light weight and higher strength. However, with the increase in metals knowledge and better blending capacity, researchers have found new ways to blend aluminum with other metals and obtain alloys for aircraft body structures.
Along with the structure, small fittings inside the aircraft cabin like seat fixtures, handles, cable trays, frames for doors, door structure etc. also uses sheet metal for their specific purposes. When sheet metal has such extensive usage at every stage of aircraft component fabrication, the need to design and fabricate them with utmost precision arises. In addition to precision, another factor relating is that the cost involved in fabricating sheet metal components that involves heavily priced metal alloys and costly precision manufacturing techniques.
Economics of Sheet metal fabrication
Most of the times, sheet metal designers spend their time in achieving optimum designs to reduce the overall costs in materials and fabrication process. However, the conditions in the CAD modeling software are completely different from the ones out there on the shop floor. This changes several aspects in manufacturing and hence the fabrication of exact parts becomes costly.
Several non-subtractive fabrication processes of sheet metal like bending, causes to change the physical properties of the sheet metal than what it was supposed to be at the time of designing. This makes it more crucial to design the sheet metal fabrication drawings by providing optimum and necessary allowances for the material. The conventional drawings on Mylar sheets for fabrication of aircraft components turn out to be confusing with 2D drawing details and plethora of fabrication details. Besides, one little mistake in drawing interpretation proves costly since it leads to wastage of costly material, rework, labor and time consumption.
3D CAD models give a leap in design drafting methods
As compared to the Mylar sheets, 3D solid CAD models depict a comprehensive design for sheet metal component fabrication. This comprehensive detailed design provides subtlety in interpreting the information throughput. Importantly, the conceptual design models of sheet metal component in aircraft assembly obtained from the previously available data when drafted in CAD develops insights to focus on the areas needing innovation in designs and gives multiple ideas as outputs.
The barriers of interpreting the 2D dimensional drafts are completely eliminated. In fact, with CAD modeling approach and modern CAD tools, it is possible to incorporate the manufacturing details [PMI] and design intents of each component as small as a frame work of door handle to the entire structure of the aircraft, in one single file.
Furthermore, once designed, the geometrical data in CAD software can be converted to physical part with NC machining easily; simply by following the geometrical boundaries stated in the CAD model.
Conclusion
CAD drafting techniques with several modeling and sketching tools have thus enhanced the sheet metal fabrication process by pinpointing the exact conditions on fabrication shop floor. It allows the designer to take care of the changes in physics of the metal and develop the designs by providing sufficient tolerances.
CAD drafting not only provides accurate designing but also is becoming the trend for designers in aviation industry for the ease in alteration of designs to incorporate innovation in existing designs. That time is not far in the future when every single design even of the smallest aircraft component will be designed with utmost precision using CAD modeling. There needs a heavy shift in taking leaps; though in quantum but big.