May 16th, 2017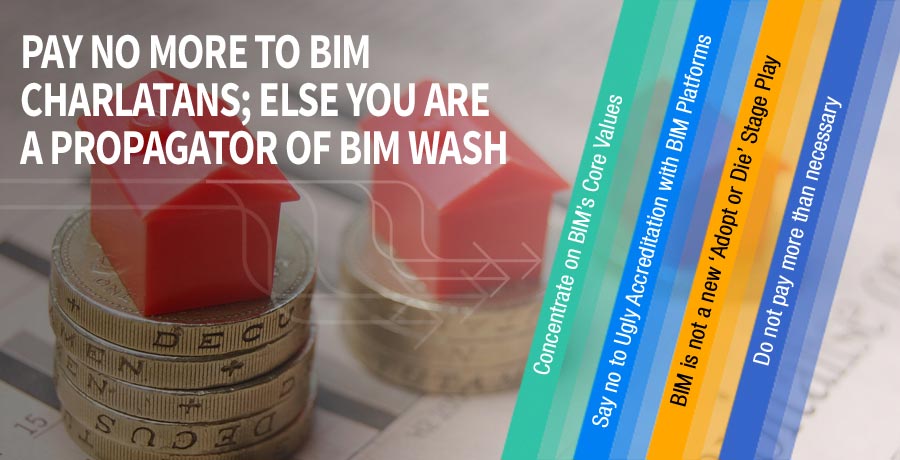 The unnecessary BIM hype and counterfeit legalities that BIM charlatans [software technology vendors and BIM managers together] leverage is creating BIM wash across the UK. In fact, the act BIM implementation that UK government initiated, and the AEC industry professionals including EPC firms, general contractors, civil engineers, architects and consultants, surveyors and facility managers across the UK propagated, has started to act as a weapon against them.
In the wake of compulsory BIM implementation; software vendors and BIM resellers hype about licensing and accreditation and set lose several deceptive claims propagating their products.
The negative propagation of BIM wash doesn't end here. It goes to the lengths of damaging the entire AEC industry, wasting both, money and time. Vendors with their hyped promises often mislead clients by selling them a BIM feature that isn't fit or required for their business and construction needs.
How many times has it occurred to you that as an individual stakeholder of construction project you were looking for a certain construction sequencing feature of BIM and were sold a feature that includes cost estimation feature too although you had made separate arrangements for it? Now this is a glitch on software vendor's side to boost their sales and increase their revenue.
However, it is not that only these over-zealous BIM salesmen are adding weapons to the arsenal of BIM wash. There are professionals and BIM managers posing themselves as omniscient to take advantage of overcharging. They claim to provide additional Industry Foundation Class – IFC and charge extra. They might claim to have been practicing BIM Level 3, and you as a client, might be just awestruck and sign the project agreement first hand. But can't these BIM managers be misled too?
Back then, when the deadlines of Digital Built Britain came closer, BIM solution managers started promoting and drawing their clients' attention by using jargons like 'BIM Level 2 Practicing' or 'Accredited BIM platforms' and others of the kind. PAS standards and Common Data Environment are some of the other terms BIM 'posing' managers use for gaining traction from their potential clients. This wrong use and braggarts are the ones spreading BIM wash.
Concentrate on BIM's core values and you won't get swayed away
One of the ways to eradicate BIM wash that comes as a result of unnecessary jargons usage is to educate the professionals and office staff with necessary BIM knowledge. EPC firms and professionals involved in construction projects, whatsoever, can never be persuaded by the flow of BIM wash if they concentrate on core values of BIM.
The core values of BIM revolve around CIC BIM protocol, PAS 1192, COBie and IFC considering all the aspects of any building and construction project, very precisely. It includes plans of construction work and numerous other practices by emphasizing on coordination oriented approach.
Say no to ugly accreditation with BIM platforms
The second yet important BIM wash propagation factor is the aforementioned accreditation card that software vendors play. A professional who knows BIM better is able to figure out how gibberish this is. There are vendors trying to sell their schemes that they claim are accredited by ISO 9001 that covers BIM. However, these claims are merely based on falsified information. All that a BIM user needs to do is upgrade ISO 9001 to cover BIM and fit it like a glove.
BIM is not a new 'adopt or die' stage play; it's a play since the inception
AEC professionals who have been associated with the industry and delivered a handsome number of successful projects will know the essence of the phrase that 'BIM isn't new'. If you have worked with AEC fraternity, though not very closely, you would know BIM has been there even before these professionals could realize – since forever.
Every successful construction project is, in fact, BIM implemented even before computer era. The role play of BIM for computerized coordination and collaboration is just to sharpen the benefits and so is the reason behind the UK government's act of mandating BIM Level 2.
Do not pay more than necessary to charlatans
Charlatans are everywhere, especially when there are strict deadlines on projects and costly matters involved. All that the clients need to be aware of is know their business requirements and what they need from BIM. Knowing this shall essentially eliminate any chances of contributing to BIM wash or even propagating it.
Overcoming this BIM wash prevailing big time in the industry is necessary. What BIM users need to do is be a part of regional BIM meetings as these are highly informative and helps you break down silos acting among your projects. BIM washers and their bogus claims have to be trashed out with facts and right knowledge. Share more learn more and keep updated to keep you at a safe distance from BIM wash and equally from propagating it.