April 25th, 2017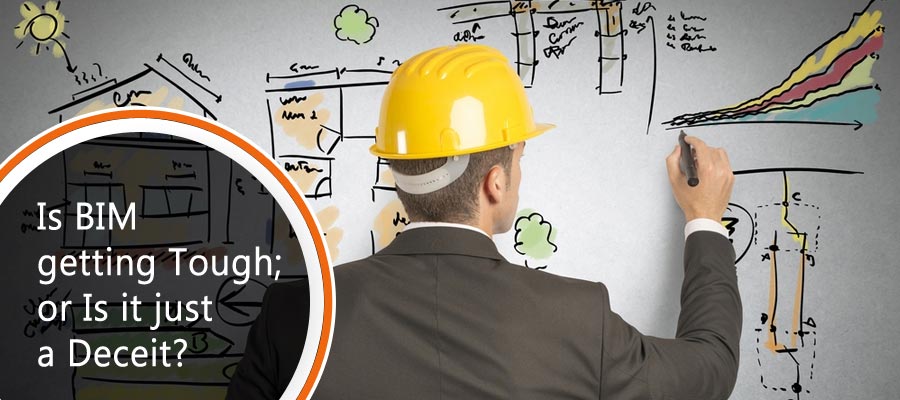 During the times of portraying BIM as protagonist, it would be a really dauntless statement to say that, "BIM is becoming tough with each passing day."
BIM was introduced with an aim to coordinate and collaborate architectural, structural and MEP layout designs. But today, BIM has come way too far than just coordinating these three disciplines and includes much more efficient designs for firefighting solutions, energy modeling, facility management etc.
Additionally, infrastructure and building construction projects are growing more complex in that race to meet urban population needs. Infrastructure that is being developed today, if compared to anything built even five years ago; makes the later look archaic.
Water runoff analysis, integration with Geographical Information System, etc. are among the latest needs arising in urban areas. With such gigantic evolution in construction methodology; BIM too has evolved to meet the rising needs, and needless to say, it has grown more complex.
So is it that owing to such elevated design integration requirements and unique needs of urban population; BIM is becoming tough?
Technically, this reasoning is just the beginning. What comes next with BIM to be implemented is developing technology infrastructure. The technology infrastructure is supposed to be equipped with efficient workstations that can tackle multiple software of complex architecture. It's only the design support solution providers who don't struggle to get the software architecture in a well-coordinated format and easily accessible through various platforms.
With aforementioned challenges, in BIM implementation, security risks are like a cherry on the cake. Even if the architecture is coordinated in theory, lethargic LAN/WAN connections, varying internet protocols and IT requirements, and interoperability amongst a range of software still make BIM implementation, a gauche. This naturally is a headache for BIM managers and construction managers, since; its implementation is not as easy as CAD. Unlike CAD, even if the manager becomes familiar to BIM tools, its coordination with the customer or vendor contracts may or may not be easy.
Speaking of interoperability, when there are files created in a variety of extensions like DWG, XLS, MDB etc. and clubbing them all in one software, and then dealing with evacuation plans, gas handling equipment, electrical controls etc. across the building facility model, is a tough task indeed.
Wide plethora of file types is just one of the variants. Building construction professionals from the structure, architecture, MEP and other disciplines, operating irrespective of their geographical locations & working on the same project with varying data connectivity; makes it just too many varying factors. Keeping all these factors synchronized throughout the project tenure for successful BIM implementation seems like a task of going on a war front against the infrastructure design and construction planning.
Clash detection and resolution if is perceived only as a design replacement with a clash free design layout; it grows really tough when dealing with new age infrastructure with multiple complexities. BIM serves as a holy grail for these new age infrastructure projects to eliminate design & workflow clashes and finish the project within construction timeframe.
Should AEC professionals give up on BIM because of rising complexities?
The fact that BIM is becoming tough is just a deceit. If not, how come the number of BIM users across the globe is increasing? AEC professional has come to a consensus that in spite of several complexities in BIM implementation, it still makes sense to most of the Engineering Procurement and Construction (EPC) companies.
Besides clash detection; cost estimation, construction sequencing and other onsite management tasks with BIM has added advantage of what BIM brings to the table. It has essentially improved the productivity of engineers, architects, EPC firms and eased the job roles for facility managers. So it thus is a proof in itself that BIM is becoming tough is a deceit; and not the truth in its entirety. What these professionals need is a well-strategized action plan to implement BIM and make the most of it.
Stress now for a strategized action plan; to save time later
The biggest potential hurdle in implementing BIM is shortcomings in technology infrastructure. If your company is not dealing this with enough aggression, you'll never be able to implement BIM! This should be the top priority for EPC firms and general contractors to invest in BIM execution for optimizing their infrastructure construction projects.
Predefining the file formats, versions of BIM tools used and deliverables before finalizing construction designs will essentially remove all scopes of incoherence arising out of interoperability. As a BIM manager, it comes to your head to ensure that it doesn't cause havoc on later stages of project.
Conclusion
If professionals retrospect, BIM looked too simple a couple of years ago. It has undergone a huge transformation in all these years. In fact, it has become the place for virtual construction and general contractors are empowered with demo and set everything in place even before the construction begins.
So no matter how daunting the statement seems; BIM implementation will always be in course and more professionals from AEC fraternity will keep adopting it.