April 19th, 2017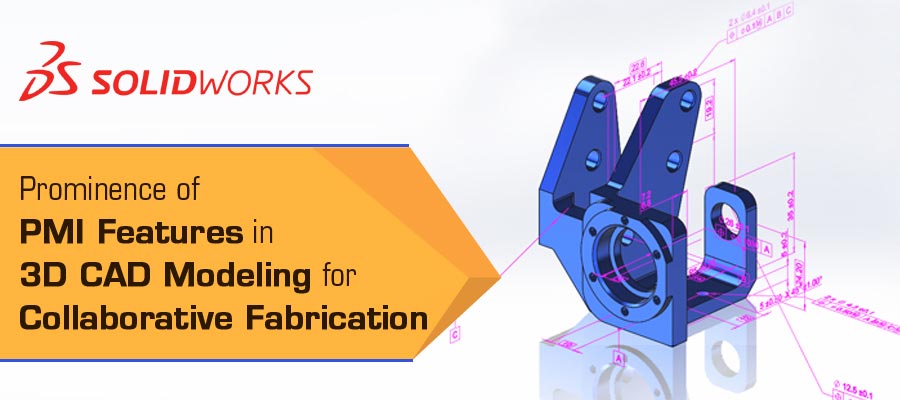 For material handling equipment manufacturers, it is vital to line up digital resources of fabrication and designing to stay profitable; especially in the wake of collaborative fabrication. To achieve a comprehensive alignment between designing and fabrication, engineering teams leverage Product Manufacturing Information (PMI) in developing 3D CAD models for large assembly designs and nesting drawings.
These design documents in CAD software such as SolidWorks, enhances the means of communication between various teams. Defining PMIs is of vital importance for material handling equipment manufacturers, who deal with multi-body parts' assembly. The inclusion of texts, GD&T, materials, time and estimated costs etc. significantly attribute at providing a better sense of size and interfacing of each component in the assembly.
What comes with PMI is a list of product information that is of significance not just for manufacturing the parts or component but also for inter-team communication. The list includes information such as measurements, texture, texts and information related to the parts and assembly, etc. Let us have a look at how crucial are these PMI attributes and their depiction in PMI annotated 3D CAD models.
Geometric dimensional attributes
Material handling equipment manufacturers ensure high accuracy in the fabrication of assembly parts to achieve maximum performance results. They have several teams working on the same 3D CAD model on different stages of product life cycle. In the light of such accurate manufacturing needs, slightest variance in interpreting even an inch of dimension can lead to rippling effect of parts mismatch and underperformance of the assembly.
For example, when a multi-body assembly like a pulley is to be manufactured, the design engineer should explicitly define radius and surface finish of swiveling base, dimensions of the pin to mount the wheel, belt material, thickness etc. along with their respective tolerances in fabrication and assembly drawings. There can be serious issues with assembly and its functioning even when the 100th part of tolerance of one of the pins is not aligned with the main body.
By annotating PMI in 3D CAD models, measuring coordinates of the vertices, length, breadth and depth, distances between wires in case of wire frame models, distances between vertices, faces or solids in B-spline entities etc. becomes relatively easier. It allows the design engineer to mention each and every dimension very neatly.
Straightforward interpretation of dimension permits smooth flow of information and ensures minimum production downtimes. Besides design communication, manipulating and tracking changes in measurements is possible with PMI which will update changes in the model. The changes can be shared with every team downstream and the annotated 3D CAD model forms a single source of truth.
VRML imports and texturing features
Texturing and 3D graphical representations are important attributes to manufacturing teams for enabling seamless workflow and digital asset generation. With VRML (Virtual Reality Modelling Language) imports, in software like 3ds Max, rendering and texturing of the 3D CAD assembly model is accomplished to give the CAD modeled assembly a more realistic look.
Not only this, with VRML imports, materials, color, shape, positioning etc. can be clearly communicated with the teams beyond design and fabrication, i.e. to say to investors, contractors, finance teams and others. This feature is of particular importance to furniture manufacturers as well with real-time rendering element that includes shadows, reflection, material properties etc. to manage the design data and to reduce Engineering Change Orders due to the disapproval of designs from clients.
Is the investment in PMI 3D CAD annotation profitable?
With new CAD products being launched in the market, material handling equipment manufacturers should really think if investing in these products is really profitable or not. Some usual questions arising to them are if the program or plugin can really integrate the CAD system their in-house design engineers are leveraging. There are few other questions these manufacturers need to ask before investing.
Enlisted are some:
Will the plugin retain intellectual property of product design when there are multiple teams working on single model at once?
Will it bring low-cost conceptual designs with PMI annotation?
How will fabrication be impacted when designs are annotated with PMI?
How compatible will the new CAD plugin/product be, with other CAD systems other than what is already in use?
When answers to all the above-mentioned questions are satisfactory, multi-body assembly equipment manufacturers should really invest in PMI annotated models. Otherwise, it doesn't necessarily mean the scope of PMI ends. A design support service provider capable of producing PMI 3D annotations in CAD models with a track record of accomplished projects is always an inquiry away.
Ensure that the next time a multi-body assembly is to be manufactured; CAD models don't go to fabrication shop floor without PMI annotation. PMI is crucial to manufacturers, and supports cost-effective deployment of resources in a low-risk manner and is prominent throughout the supply chain.