February 9th, 2023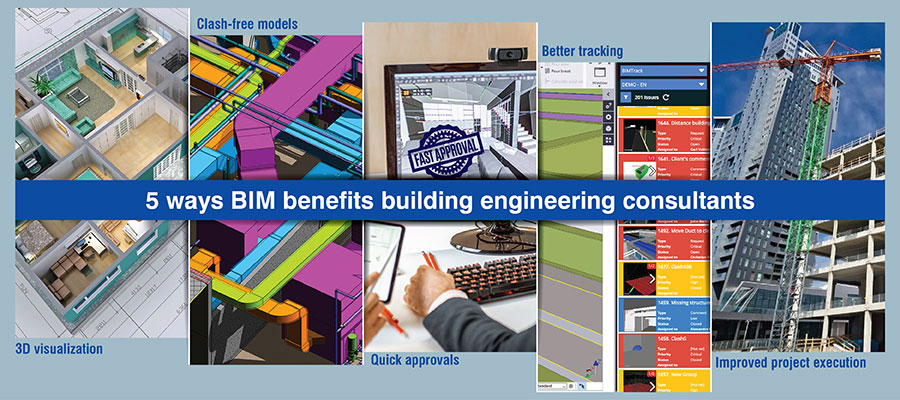 BIM services enable building engineering consultants to raise the efficiency of construction projects, optimize resources, and improve building value. They can increase project collaboration and reduce delays and wastage.
Building engineering consultants often struggle to keep up with construction market trends, technical advancements, and project demands. Studies estimate the construction industry will reach a whopping $14.4 trillion by the year 2030.  Construction technology is progressing fast to make that possible.
BIM services help experienced building engineering consultants by onboarding them to the modern construction environment. The use of BIM for consultants has been on the rise as it offers a range of advanced capabilities. These include virtual prototyping, improved collaboration, time sequencing, accurate quantity takeoffs, automated documentation, parametric modeling, cloud integration and Digital Twins.
However, most consulting engineers are still plagued by challenges of old construction processes and tools. The way out is to adopt BIM. Gaining proficiency or overcoming the learning curve becomes easier with support from a BIM outsourcing partner.
In this article, we discuss how building engineering consultants can adopt BIM services to overcome challenges and gain positive project outcomes.
Issues faced with legacy tools
Absence of visualization when preparing, developing, and assessing various building designs and drawings leads to rework, cost overruns, and project delays
2D drawings do not provide the visibility required to gain government approvals for projects
Inaccurate and incomplete 2D drawings to track and supervise building construction result in lower project efficiencies
Uncoordinated project data increases difficulty in preparing detailed feasibility reports, causing poor constructability
Incorrect day-to-day resource planning results in greater onsite confusion, cost overages, and project delays
How BIM services deliver superior project outcomes
BIM models provide 3D visualization to prepare, design, and assess building details
A coordinated 3D BIM model encapsulates every piece of project data from multiple trades, including architecture, structure, MEP, and FP. This helps all who require 360-degree visualizations to assess structural details such as live load vs. dead load, etc. MEP engineers also need to design mechanical systems, including heaters, air conditioners, and smoke-related components. Becoming clash-free in the pre-construction stage with BIM raises project efficiency.
BIM based tools ease designing HVAC systems, preparing and evaluating drawings, MEP estimates, and generating cost-efficient layouts. They cater to the required standards, inspections, processes, and technical recommendations, as per project needs. A coordinated 3D model supports engineering consultants in reducing rework, and in cutting down cost overages and project delays.
An architectural and engineering consulting firm from the UAE approached CAD Outsourcing Services for a residential project. They needed an architectural model at LOD 300 with drawings. The team at CAD Outsourcing Services created a clash-free and coordinated 3D model, with component linking.
The final deliverables were GA drawings, BOQs, floor layouts, building sections, elevations, detailed sections, and other design deliverables, including an architectural 3D model. The client could achieve 98.5% error-free deliverables, a quick four-week TAT, improved client presentation, and overall cost, time, and material savings.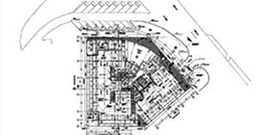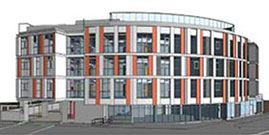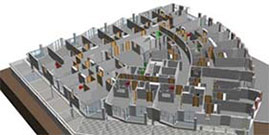 Detailed, coordinated and clash-free 3D models ensure quick government approvals
Building engineering consultants need to use BIM solutions from the early design stage to use 3D models for calculating accurate BOQs and cost estimates. Having a complete snapshot of the project with detailed information on project components and costs boosts chances of success.
By integrating BIM into their workflows, building engineering consultants ensure faster government approvals, such as fire approvals, building approvals, etc.
Data-rich 3D BIM models support better tracking and supervision
Increasing and optimizing building performance becomes easier with a coordinated and clash-free 3D model to help with project supervision. Every project deliverable includes façade views, layouts, floor plans, photos, etc. within the information-rich 3D model. So, project tracking receives a boost. Improved tracking and supervision with Revit modeling services help in quicker project completion without compromising on quality.
An European architectural and engineering services firm partnered with CAD Outsourcing Services to leverage 3D BIM modeling in a housing corporation project. With 2D drawings and notes, the team created 300 BIM models in Revit at LOD 200. The 3D model was accompanied by façade views, floor plans, BOQs, and GIS data.
The client could achieve 50% time savings, 18% cost savings, and improved BIM model management through property data digitization.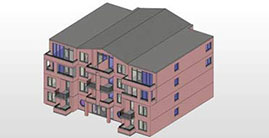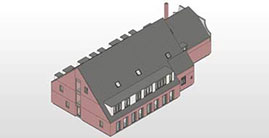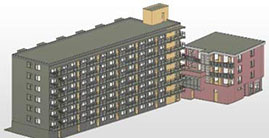 Accurate technical data in BIM enhances feasibility reports, improving project execution
3D BIM models are packed with details and are extremely accurate. Models built using automation tools and facilities like Dynamo and Revit library customization can spin out prototypes through generative design, improving building constructability. Extracting feasibility reports and studies from within the 3D BIM model for material quantities, lighting, HVAC, and other equipment improves building performance.
CAD Outsourcing Services received a residential building construction project from an Architectural Engineering Firm based in the USA. The firm required 3D model deliverables with construction drawings in Revit. The team at CAD Outsourcing Services used the PDF files with markup drawings provided as input. Navigating around project challenges, the team created an MEP 3D model at LOD 400 with model-extracted construction drawings.
With the deliverables at hand, the client achieved accurate fabrication and streamlined installation, leading to less rework and savings in time and costs.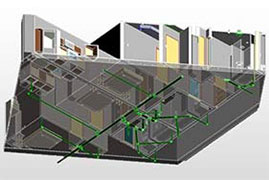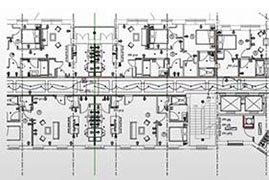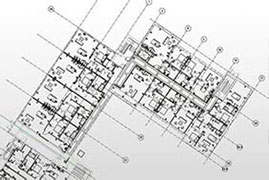 3D BIM models in day-to-day planning
Planning and designing of building equipment require a coordinated 3D BIM model and accurate drawings. Providing precise advice and First Time Right (FTR) building deliverables to clients can save costs, reduce change orders and RFIs, and reduce project delays. 3D coordinated model-extracted shop drawings provide exact material quantities, BOQs and BOMs. They also reduce material waste by improving logistics and scheduling.
The road ahead
Over the last decade, based on a study, 47% of high-intensity BIM users have undergone digital transformation. In fact, BIM has been effective at enhancing every stage of the building project. Building engineering consultants can use Point Cloud to BIM to improve renovations. A central digital repository of every project deliverable helps engineering consultants speed up renovations and retrofitting. These include 3D models, As-Built drawings, photos, O & M manuals, COBie data, and other information.
AR and VR integrated with BIM-enabled walkthroughs in real-time, help engineers and clients understand the actual project scope. As the AEC industry became accustomed to the host of benefits BIM offers, BIM uses saw a rise, especially over the last decade.
Conclusion
Based on a report by Statistica, the rate of BIM adoption has soared from 13% in 2011 to 73% in 2020. For a building project to be successful, it requires detailed planning, design, and assessment in the pre-construction stage. But without specialized BIM services, trying to leverage 3D BIM modeling, Revit Automation, or 4D scheduling, can daunt new adopters. Partnering with a reputed BIM outsourcing provider can bring tactical advantages. This can safeguard the consistency of brand experience and prevent any disruptions in operations, even in running projects.
Improve visualization with 3D Revit models. Outsource your 3D modeling project needs.