November 6th, 2018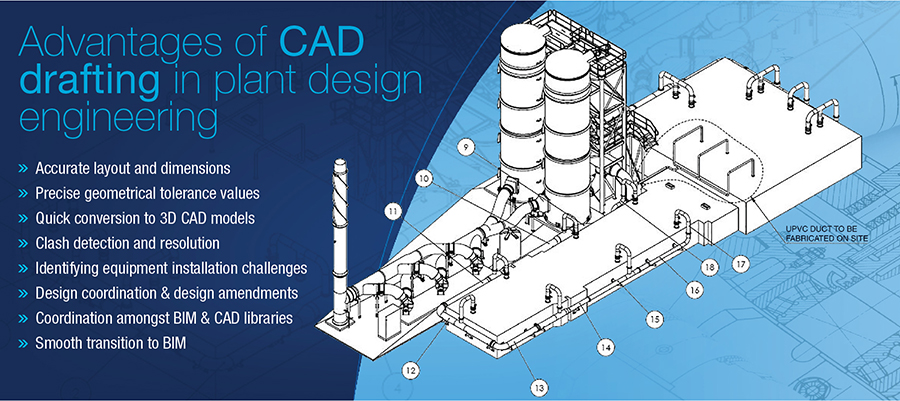 While there are umpteen applications of CAD drafting services in industrial construction, the most important is sketching out plant layout and general arrangement of plant equipment across the facility. If we inspect the correlation of CAD drafting and modeling with plant design engineering there are multiple professionals right from construction firms, plant owners, manufacturing companies to individual plant design engineers and structural engineers who are directly associated. Hence when it is about plant efficiency, it all burns down to how well is the plant layout strategized and all the equipment placed.
Benefits of CAD drafting in plant design engineering
Plant design engineering isn't a new concept and hence it has been there even before the CAD era. So why the sudden importance to CAD services in deciding and modeling plant layout and what are the benefits of CAD drafting services that manual drawing cannot offer?
Enlisted is a quick look at some of the apparent advantages of using CAD drafting:
Accuracy in planning the layout and dimensions
Precision in deciding geometrical tolerance values
Holistic examination and quick conversion to 3D CAD models
Easy clash detection and resolution
Pinpointing challenges in equipment installation
Smooth design coordination and design amendments
Ability to optimize plant efficiency with minimum man-material movement
Coordination with BIM and CAD libraries
Smooth transition to BIM platforms
Alongside all these takeaways, preparing fabrication drawings for plant equipment like boilers, heaters, pumps, compressors, valves, steel structures, platforms, machineries etc. through CAD platforms like AutoCAD, geometrical inconsistencies are eliminated. Also, the standards like ASME, API, ANSI, TEMA, etc. can be adhered very well.
Secondly, converting from one platform of CAD like SolidWorks to another of BIM like Revit is easier. With such a facility, the manufacture can easily deliver BIM content to the relevant sub-contractor or general contractor and facilitate better space planning and assistance. Repetitive structural elements of an industrial or processing plant complex like roofs, columns, beams, platforms, ceilings etc can be stored in libraries and replicated later for quick modeling and drawing cycle.
Need of partnering the right CAD drafting Company
So to achieve the intended efficiency it is wise that plant layout drawings, equipment fabrication drawings, installation and GA drawings meet the quality benchmarks. Partnering with the right kind of plant design engineering offshore service partner ensures meeting the needed standards owing to their inherent expertise and years of experience.
An outsourcing company that offers CAD drafters for hire on hourly basis and charges low cost fees is proving to be an economical option for many plant construction organizations and engineers. They not only deliver the necessary plant layout with FEED diagrams and P&IDs but also provide expert insights and help eliminate glitches and inconsistencies in the planned designs owing to their rich and varied experience.
Furthermore, such an organization has a remote headquarter and operates from a particular nation, like India with offices or presence of a consultant across the US, UK, Europe, Middle East, Scandinavian countries, Australia, New Zealand, and APEC regions. This makes them reachable near you to troubleshoot your challenges across your project tenure or partnership journey.
Why choose us as your CAD drafting service partner for Plant design engineering?
At CAD Outsourcing Services, we offer plant design engineering service that is more than mere CAD drafting. Our aims lie in establishing long term relationships with our clients and help them eliminate design glitches early and save time and cost later.
A quick glance at our service offerings:
Legacy data conversion from paper to 2D CAD
3D BIM modeling conversion of plant structures
MEP coordination drawings and piping layout in AutoCAD
P&ID diagrams for plant owners and clash detection and resolution
BIM content for equipment and machinery using SolidWorks
3D CAD modeling and analysis of foundation and installation base for machinery vibration absorption
CAD libraries for 3D plant layout modeling
In addition to our services we have a well-versed team of 200+ CAD drafters and qualified engineers having experience of outsourced CAD drafting and MEP drafting for 25+ years.
To speak to our engineers for increasing your plant's operational efficiency, drop us an email with your queries at info@cadoutsourcingservices.com and schedule a call for detailed consulting.