February 22nd, 2023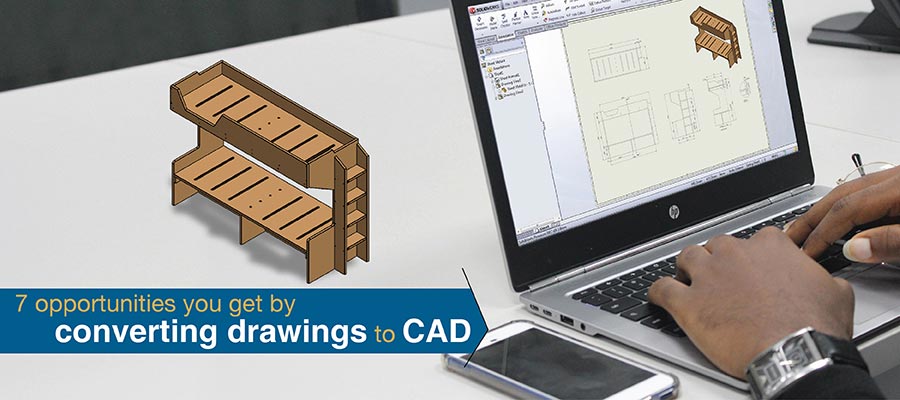 Paper-based 2D drawings, although deeply embedded within the furniture manufacturing industry, pose challenges in design storage and revisions. Converting them to CAD enhances designers' efficiencies, streamlines manufacturing operations and enables reusing design intelligence.
CAD conversion is an essential overhead for furniture companies trying to upgrade their operations to match the current global scenario. For them, the real-life workplace is hybrid where legacy systems and modern systems coexist. And they know talented and experienced designers may become unproductive when separated from their practiced design workflows. The shift can't happen overnight.
However, CAD conversion bridges the gap by helping to convert hand sketches to 2D or 3D CAD drawings and models. Even for furniture manufacturers who have long adopted modern digital tools, 2D to 3D conversion of furniture drawings upgrades their design database. For such companies, CAD conversion of display furniture designs or furniture shop drawings represents recovery of high-value knowledge capital. It helps unlock and put the knowledge accumulated over the years to use against modern settings.
In a nutshell, we can see the benefits of CAD conversion to furniture manufacturers in:
Quick and accurate furniture product development using a 3D CAD environment
Neat and clear 2D shop drawings with required GD&T, annotations, and shop instructions with detailed information
360-degree clear visualization via a 3D CAD environment
Standardization of products, processes, and documentations for furniture product development and manufacturing
Error-free communication among stakeholders that improves collaboration
Effective change management
Efficient and secured storage, retrievals, and reuse
Speed of delivery with first-time right
Higher customer satisfaction
Converting old format furniture drawings and design blueprints to 3D or extracting digital 2D prints from 3D models improves workspace communication in furniture companies. It also helps to access the experience of 2D designers and migrate workflows into newer models.
7 Challenges and Opportunities in Adopting CAD Conversion for Furniture Manufacturers
Challenge #1: Relying on paper-based hand sketches and photos to make products
Most customers come carrying concepts in their minds and some reference photographs for custom furniture requirements. The designer has to put it as sketches on paper and then transfer the intent to detail design for manufacture.
Making furniture products consumes a lot of time, from concept to manufacturing. It also creates communication conflicts among customers and stakeholders and higher wastes because of mismatches in materials, dimensions, and shape requirements.
Opportunity: Creating a 3D CAD model for clear visualization and quick design finalization
With the use of new age CAD tools, furniture manufacturers can make quick concepts and accurate furniture drawings. Paper to CAD Conversion has enabled them to digitize designs, save it for future referencing and have a 360-degree visualization of the concept for customers. This eliminates the gaps in interpretation between the customer and the designer, and required design changes can be done faster.
A retail furniture manufacturer converted hand sketches to 3D CAD and reduced manufacturing costs and time by up to 50%.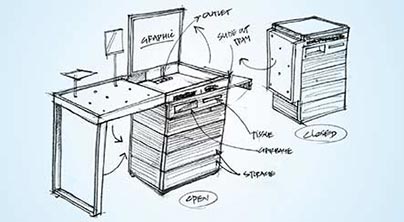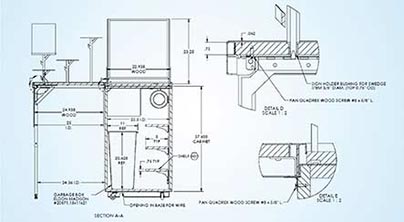 Challenge #2: Using PDF drawings and blueprints for communication between stakeholders
Most legacy designs are preserved as blueprints and are not revised or reprinted. For digitalization, furniture manufacturers usually scan them to store them in PDF formats.
However, scanned 2D prints are usually not clearly readable and presentable to either customers or teams on the shop floor. And they lead to ambiguities and errors in execution.
Opportunity: Leveraging different file formats for seamless exchange of design data with 3D CAD models and 2D drawings
As a source of single truth, digital 3D models and 2D drawings are more user-friendly to review and follow. They bring all the stakeholders in furniture manufacturing on the same page for effective collaboration. They also reduce conflicts and speed up the manufacturing and delivery process.
For example, the design and manufacturing of building furniture require tight collaboration between architects, contractors and millwork or furniture manufacturers. Different drawings like floorplans, sections, elevations and different systems like schedules for furniture are involved. The lack of a unified view in legacy workflows makes it challenging for stakeholders to reach common consensus and resolve clashes.
New age CAD technologies allow users to share the CAD data among different systems and in different formats like dwg, pdf, dxf, step, IGES, Stl, html, and many more. Cross-format compatibility helps in multiple requirements for validation, manufacturing and compliance, and design documentation. New practices use MBD (Model Based Definition) to communicate to all stakeholders without information loss and create a global format to exchange data per users' needs.
Many a time, drawings exist on papers or as pdf files that cannot be edited or updated. Sometimes red lines are used to show markups and revisions. So, over a period, the drawings become cluttered with information overload. As a result, pdf to CAD conversion is done to digitize drawings and use them for future updates.
CAD Outsourcing Services developed detailed CAD drawings for a UK based office furniture and joinery manufacturer to save time and cost during design, manufacturing and installation.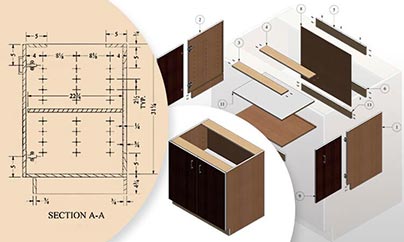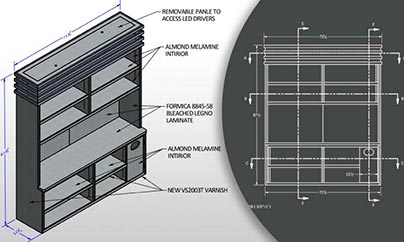 Challenge #3: Safety and long-term usability of paper-based designs and blueprints
Much resource and effort are spent in storing designs in paper-based formats. Saving them from environmental damages and wear and tear, misplacement or theft is inherrent. Once a paper-based design is stolen or damaged, it can seriously hurt a furniture manufacturer. Recreating the same design requires a lot of experience and effort.
Opportunity: Digitizing designs as CAD files for secure retrieval and access
Digital 3D models of furniture products and their 2D shop drawings are stored on hard drives or in cloud-based storage. Use of PDM and PLM tools in a digital environment makes it a more efficient way of storing, retrieving, and managing revisions.
Digitally stored designs are easy to share and modify with user access controls and rights. CAD files add high security to the intellectual property of classical and innovative furniture design. Through CAD conversion, we eliminate the burden and risks of the physical storage of legacy prints.
Challenge #4: Difficulties in choosing the right tool and skill sets for CAD adoption
A major challenge of small-and medium-scale furniture manufacturers is a lack of knowhow about digital tools that could help them leverage the advantages of CAD conversion.
Opportunity: Leveraging new age parametric CAD tools that are user friendly and easy to learn
Many CAD tools are available specifically for furniture manufacturing and offer user-friendly interfaces. They help leverage the knowledge captured in old formats by converting it to new 3D CAD and 2D formats.
For example, SolidWorks, Woodwork for Inventor and Sketchup are popular tools among furniture manufacturers. These CAD tools are low-cost and easy to learn and use.
Challenge #5: Data loss risks in CAD conversion and iterative processes
CAD conversion is difficult. It requires a set of processes that transform old format designs and drawings into a newly adopted CAD environment with accuracy. Without proper knowledge and experience, CAD conversion may lead to a loss of data and additional efforts to correct the designs and drawings.
Opportunity: CAD conversion using modern CAD tools ensures zero loss of design intelligence
New age technology offers accurate data conversion from raster (photo images) to vector for the ease of creating 3D models. It can further help leverage direct manufacturing via DXF formats.
Also, neutral CAD file formats can be used for information exchange with zero loss of design intelligence. Customers, suppliers, sales, and manufacturing shop floors can seamlessly share ideas without any hicupps.
Learn how the CAD Outsourcing Services team used CAD conversion to process papers sketches and pdf files. We generated comprehensive furniture manufacturing drawings in 2D CAD for accelerated manufacturing with minimum ECOs.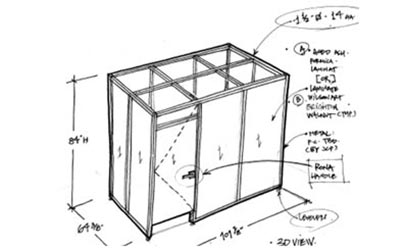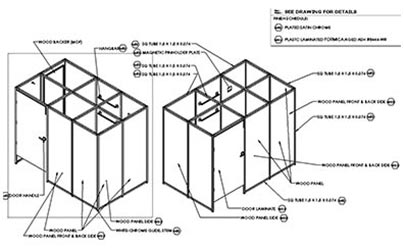 Challenge #6: Standardization issues while converting paper-based drawings to CAD files
Translating design from old formats to CAD files requires a clear understanding of furniture product design. If the standardization is not done right at the initial stage, it leads to errors and rework.
Opportunity: Structured product modeling in CAD brings standardization and removes repetitions
CAD conversion offers an opportunity for standardization and removal of extra design inventory. It improves structured 3D modeling and makes designs available for wider sharing, increasing collaboration.
It also speeds up new furniture designs as common wood working parts and joinery like clamps, jibs, dowels, and other hardware items have multiple repetitions in a design.
Challenge #7: Lack of skilled resources
Those who have adopted digital tools like CAD for design and technologies like CNC machines for manufacturing face a lack of skilled design engineers. For them, it becomes difficult to convert legacy furniture data into 3D models and 2D furniture shop drawings.
Opportunity: Get training help and support from offshore firms with expertise in CAD tools
The latest CAD tools are highly user-friendly, and freshers can learn them in a month or so. Using design automation increases manufacturing speed and delivery. And design automation takes care of repetitive tasks while increasing accuracy. These tools also offer a high level of interoperability to accommodate technological changes in the manufacturing environment through APIs and integrations.
Learn how a furniture manufacturer reduced the lead time from 4-5 days to one day and built a 70 times faster design cycle. Automate your repetitive design tasks to speed up engineering lead times with us.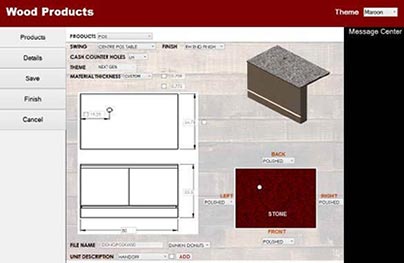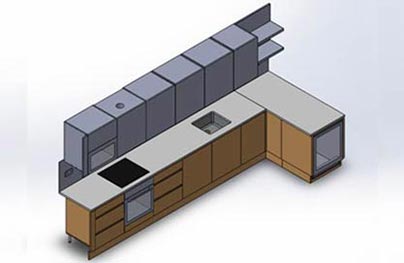 Conclusion
In furniture product manufacturing, a manufacturer can choose to either continue with legacy processes or adopt new tools and offer more to customers. Modern CAD tools allow you to proactively tend to your customer's needs, offer efficient responses, and get products faster to the market.
2D to 3D CAD conversion of your legacy designs will also help you reuse your knowledge bank and stay competitive in the market. Thus, the way forward is in converting old furniture products blueprints, pdf, sketches, and drawings to 2D/3D CAD workflows.
Unleash the power of your 2D drawings with 3D CAD Conversion