January 16th, 2018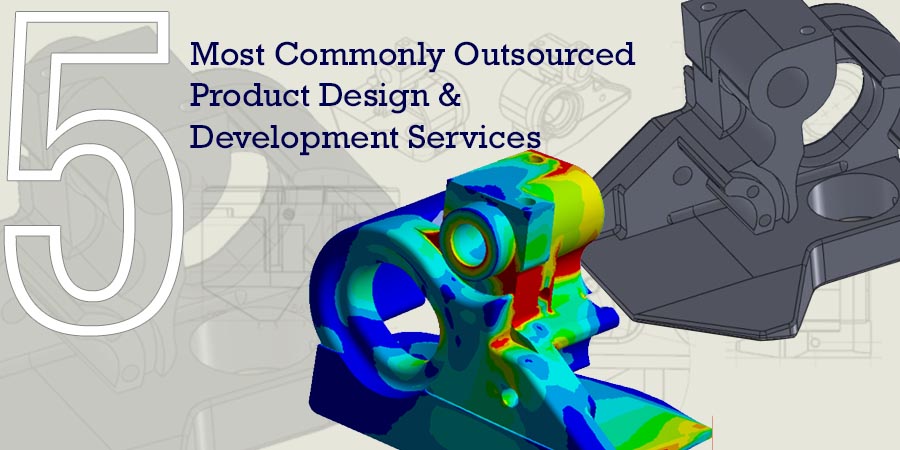 Manufacturers do have creative ideas for new products to be brought to the market. But rising costs and squeezed margins compel manufacturers to opt for engineering and R&D services and shorten product development timelines to gain early advantage. Fulfilling the requirements of managing product design development, from concept to production, is a challenging task for design engineers & manufacturers. Ultimately most of their creative ideas get shelved, and never see daylight.
With extensive experience in implementation, maintenance, and customization of PDM and PLM tools for mechanical engineering design companies help manufacturers make profitable growth. Let's have a look at five most commonly outsourced engineering design services, and why manufacturing companies choose to outsource product design and development.
Product Development and Design Consulting
New product development (NPD) or Research and Development (R&D) for new products is the most popularly outsourced CAD design services. R&D for product development is all inclusive of bringing the idea to a team of highly skilled engineers for converting it to usable final products. Professional engineering support for product development and design empowers manufacturers to bring their product to market – conveniently.
3D Visualization Services
Architects, interior designers and building product manufacturers need 3D visualization that can accelerate design, speed approval, and facilitate purchasing decisions. They outsource 3D modeling and rendering to experts who provide CAD models of architectural and furniture products for 3D visualizations that convey design intent.
Teams of 3D artists and architects deliver enhanced 3D rendering services using V-Ray and 3ds Max for effects of shadows, natural and artificial lighting, textures and carving on various products to help enrich product properties.
Architectural product manufacturers prominently outsource 3D visualization services, as it enhances design features, lighting effects, image enhancement and much more for easy marketability using Photoshop and Lightroom. Manufacturers can go to the extent of using photo-realistic digital rendering of CAD models for sales catalogues.
3D CAD Modeling and Drafting
Computer-aided design more fondly known as CAD, and drafting are amongst the top commonly outsourced engineering services. CAD outsourcing covers a wide plethora of offerings ranging from creating electronic blueprints to assembling drawings and manufacturing detailed drawings in SOLIDWORKS software. These drawings can be converted from 2D drawings to 3D CAD model files so as to edit, share and archive them as and when required.
Why most companies choose to outsource design services is due to the reason that if not done by experienced CAD professionals, it is a very time consuming task and might initiate ECOs when manufacturing is halfway which proves to be very expensive.
Reverse Engineering
Manufacturers can improve efficiency, update the product or redesign certain aspects of the product through to determine original design intent, design digitization, design enhancement and comparing designs with the competitor's product line.
Reverse engineering of physical parts especially for sheet metal fabricators, OEMs, component manufacturers, automotive ancillary manufacturers, and furniture fabricators, helps them to replace worn-out mechanical machinery, industrial and plant equipment through 3D CAD modeling from laser scanned images.
Data from laser scanned images is used as input to develop detailed 3D CAD models with PMI annotation and 2D CAD drafting. Fabricators can leverage the CMM capabilities, inspect-study-analyze, and reproduce 3-dimensional data to troubleshoot the operational challenges.
Simulation and Analysis
To know if the product will work as intended or not, and which all places need changes; all product development requires simulation & analysis. Secondly, simulation plays a major role in obtaining proofs of design concepts through prototypes' simulation for safe and efficient operations of the equipment or machinery product designed.
Conducting accurate research and simulation process for analyzing a product is a tedious task required to make the end product sustainable and reliable. To get assistance FEA and CFD projects, there is no one better than an engineering firm which offers analysis and simulation services.
Outsource Product Design & Development to stay competitive
In addition to offering design and analysis services, manufacturers should look at manufacturing automation capabilities of custom machine and industrial products design & development service providers. It will help them to manufacture products with least change orders.
Engineering Design Service providers understand the importance of innovating to provide competitive advantage and customizing existing products in minimal time-frames. Mechanical design experts provide advanced mechanical engineering solutions and mechanical engineering design services to their clients across multiple industries.