February 21st, 2018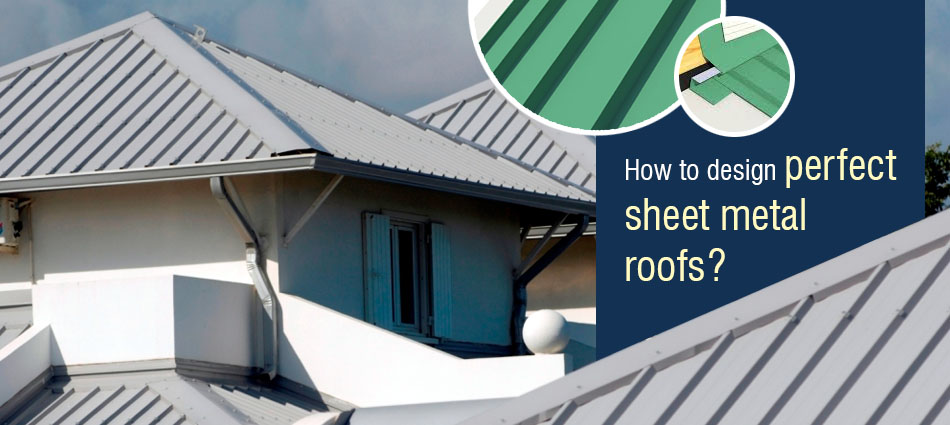 Popularly used as modern day building construction shed, sheet metal roofs, have gained significant acceptance in the past few years as the manufacturing industry advanced.
With some notable developments in the manufacturing industry, especially sophisticated machining processes, smother coordination between teams and in-depth knowledge of the sheet metal behavior under various manufacturing processes, complex and unusual designs of metal roofs have become widely accepted.
But again, acceptance of complex designs means the need for perfection right from the first draft and consideration of every minute details, building codes, regulations, processes consideration, and much more during drafting stage. Additionally, designs for sheet metal fabrication needs to be precise adhering to standards right from initial drafts.
To show how to obtain perfectly designed sheet metal roof, let us make a case in point, try and understand the conclusion. By the time you are done reading the logical derivation of case, you will be in a position to logically set your standards and process for sheet metal roof designing.
A case in point
Consider standing seam panel sheet metal roofs. We know they are fabricated with keen details and accurate metal joining process. The inevitable roll forming process done on-site or sheet metal shop, are done exactly as per the specs provided by the sheet metal contractor.
Secondly, they are in lines with the requirements stated by the building contractor as requested based on the building type, geography and weather at installation site, and cost factors. However, in any case, the basic process would include a roll former that turns metal sheet into actual roofing panels for final seaming and installation.
During roll forming any metal, be it aluminum or steel, undergoes series of deformation making bends and curves as per the specs provided by designer or contractor. Each successive roll will cause the metal to undergo shear stress and metal is elongated or compressed to varying amount based on the physical properties, a gauge of the sheet, grain size and grain orientation and several other physical material characteristics.
Logical derivation from the case
Words, 'specs provided by contractor or designer' are of central importance here. Clearly, what happens out in the sheet metal shop is very much based on the instructions throughput by the designer in shop drawings.
It requires the design engineer to have a profound understanding of what is happening on the shop floor as well as when the roofs are installed to withstand harsh weather conditions. Meeting threshold requirements of preventing corrosion by selecting appropriate material, building codes requirement, fasteners, slope and rise of the roof etc. lies in the onus of the CAD design engineers working closely with sheet metal contractors to deliver accurate CAD drafts and fabrication drawings.
Unless these are clearly communicated to the design engineers there is a higher possibility of change orders after the final fabrication drafts are released for fabrication. Drafts are then sent back to the CAD shop for changes marked up with red, documented by the drafter, make necessary changes, new BOMs are prepared and goes back to shop floor to initiate new order release for fabrication from scratch.
Such Engineering Change Orders [ECOs] not only disrupt the flow while moving back and forth from CAD shop to machining shop but also adds to the costs, lead times, metal scrap and excessive man-hours.
Logical setup drives perfection in designs
When roofing designs are made in accordance with the final needs and goals, changes are reduced to nil resulting in efficient and shorter design development cycle along with smoother manufacturing stage. Such efficient design cycles come into practice when design engineer abides by rules and standards for sheet metal designs in CAD adheres to necessary codes for roofing.
For example, it should be clarified from the start that the contractor needs X in Y slope for a roof for covering 'A' m2 area of the building structure. The design engineer then can identify and suggest appropriate metal used, the rise of the metal roof, thickness, gauge, pitch of the roof, etc. specs for the sheet metal.
Fabrication drafts and 2D CAD shop drawings with manufacturing information and machining process can then prepared using any suitable CAD platform AutoCAD or SolidWorks or any other. Building codes with reference to SMACNA etc. as specified by the building contractor can be specified for fabrication drawing.
DFM guidelines, the coefficient of thermal expansion of the sheet metal, anti-corrosion consideration for all weather suitability of the roof and complementing the building structure are some of the major features that should be considered by the roof design engineer.
When roof designs prepared by fine-tuning geometry with engineering physics and architectural sheet metal designs the designs are bound to turn into a perfect masterpiece that you have always imagined!