March 31st, 2017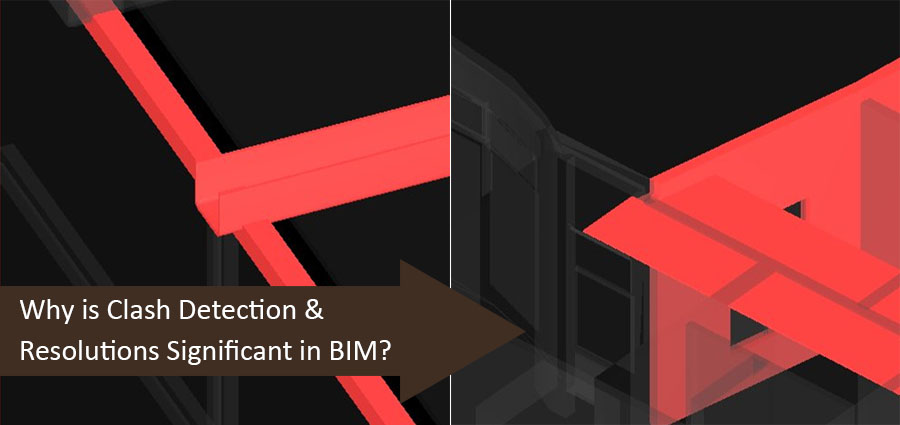 Building Information Modeling (BIM) aims at achieving collaboration in design implementation and coordination among various disciplines of any building construction project. It essentially delivers better outcomes in planning and execution of the facility design considering various design aspects from architectural, structural and engineering disciplines.
Alongside, BIM has another essential role to play of clash detection and resolution using Autodesk's NAVISWORKS and Autodesk's Revit in the designs prepared by architects, structural engineers, and MEP layout configurations; according to availability of space.
When designs from different disciplines are collaborated on a single platform, several hard and soft clashes along with workflow clashes are encountered. BIM very efficiently aids general contractors and construction engineers in detecting all these clashes, by considering construct-ability or operations of the building.
Why is Clash Detection and Resolution Essential?
In BIM, modeling work really doesn't move forward till the time designers keep getting the below message flashing on their computer screens "Lines cannot intersect each other. The highlighted lines currently intersect."
Any MEP engineer, structural engineer, or an architect who uses BIM knows what the message means. It essentially says that a clash between one or more building elements has been detected. Detection of clashes might seem to be a small task; as an exercise of looking for interference among the building elements and replacing it with another feasible design.
However; when clash detection and resolution activity is to be done for large facilities like airports or malls, the task becomes cumbersome and designers may end up meeting dead ends. It may happen that the structural engineer ends up erecting a conference hall, and MEP engineers have utilized that space of the architecture for housing the outer units of HVAC components. This has to be redesigned and solved for. Changes in individual drawings can lead to rippling effects and can result in having more changes than actually required.
Clash Detection and Resolution through BIM
It is important that the design and workflow clashes are dealt with by BIM professionals in order to avoid unnecessary building design alterations and maintain the design intent. BIM professionals working in common data environment like Autodesk's NAVISWORKS and Autodesk's Revit helps mitigating the effects and achieve a coordinated design model. Common data environment empowers architects, structural engineers and MEP engineers to review clashes and resolve it in live model.
A considerable waste of resource and time is witnessed if these clashes are not detected and resolved early during design phase. If clashes are left unattended, it causes reworks and downtimes on construction sites until the time they are resolved. Such downtimes lead to decrement in workman's efficiency on site and causes delays in timeline.
Hard Clash Detection and Resolution in BIM
For hard clashes, interference of one building component with other, have to be resolved before the construction phase begins. For example, a beam and an elevator slot cannot be constructed at the same place, if they happen to be in designs, it has to be resolved by structural and MEP engineers with alternate feasible designs.
When such major hard clashes are not resolved early during design phase, sets the actual construction lagging behind the scheduled timeline. BIM delivers solutions to such clash detection and resolution based on geometric, semantic and algorithmic based rules through information of 3D building design models.
Soft Clash Detection and Resolution in BIM
Another significant benefit of BIM in design coordination is detection of soft clashes dealing with the sufficient amount of spaces and tolerance between two building components. In fact, BIM goes to the extent of allowing the designer to comply by buildings code through soft clash detection.
Providing a certain minimum clearance between two outer cylindrical surfaces of a fire pipe and pneumatic pipe, is an instance of avoiding soft clashes and ensuring safety from fire risks. BIM checks for such clearances and makes the design comply codes.
Workflow Clash Detection and Resolution in BIM
BIM aids general contractors in detecting clashes in construction sequencing, aka workflow clashes, and manage to efficiently plan and manage construction phase. Works from different construction disciplines can be easily managed on site without any overlapping of activities. It also provides the information pertaining to onsite clearance requirement and helps the building operations team operate the facility smoothly. Include somethings from here in the first para – if possible.
Conclusion
BIM offers solutions in several aspects of saving time and resources, and spares contractors from last minute alterations. Clash detection and resolution, manually done for huge building facilities, consume humongous amount of time and still doesn't deliver satisfactory solutions. On the other hand, when dealt with BIM with an aim to achieve coordinated and collaborated design, the MEP solutions can be reached upon easily and with utmost accuracy.