August 1st, 2016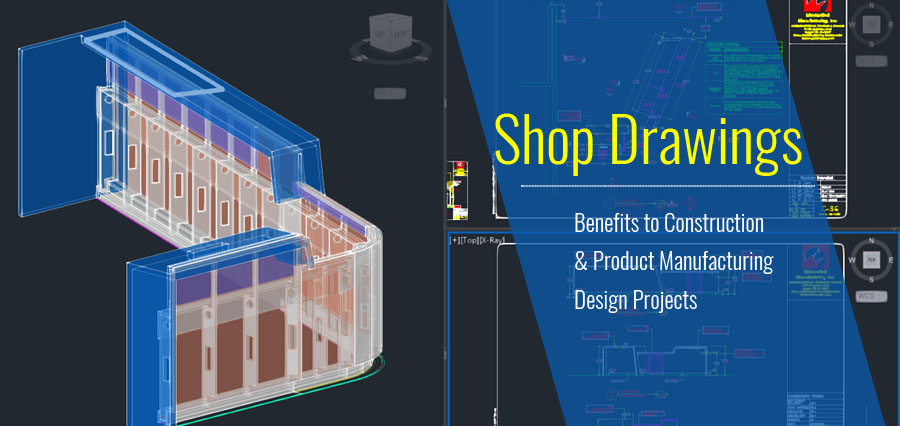 Coordinated MEP shop drawings for sheet metal ductwork, piping, plumbing, fire protection, and electrical, have attained the position of crucial aspects in the manufacturing and construction industry. Shop drawings are contractor's drawn version of information shown in the construction documents 2D CAD drawings using SolidWorks & they showcase more details than the construction documents. They are drawn to explain the fabrication and/or installation of the items shown through Mechanical drafting and 3D models in the process of Product design and development.
Let's make it simpler to understand as, the set of sketches and CAD design & drawings, prepared well in advance to the creation of different types of devices, and are known as Shop Drawings. The idea behind preparing these drawings is to present guidelines for the manufacturing of those devices, ensuring that the quality standards and other specifications are achieved.
Potential of assured high quality, uniformity in the dimensions of the components, and the capability to correct futuristic issues, even before they complicate the actual installation and construction; are some of the primary benefits of Shop Drawings.
Best shop drawings are the once that are prepared with help of SolidWorks in accordance to project standards, and assist the contractors, suppliers, fabricators and manufacturers during construction process. Various types of shop drawings include Penetration Drawings, Sleeve Drawings, Insert Layout Drawings and Spool Drawings.
Accurately prepared sleeves, penetration & hanger locations from 3D BIM models and the shop drawings can conveniently be downloaded directly into GPS instruments on site for making fast & accurate layout. They are deemed accurate upon including all required information for the engineers and architects as per approved submittals, design drawings and other specifications.
Professionals such as Engineers and architects, involved in developing blueprints do not prepare traditional shop drawings. Instead, these drawings are prepared by building contractors, suppliers or manufacturers as per client requirements. This nowhere specifies that blueprints do not influence the mechanical or technical drawings, which is common to shop drawings.
Building product manufacturers who create these drawings, at times, utilize them when dealing with a client to develop perfect designs for a particular project. It is indicative that the shop drawings relate to a component which is mass-produced, or a sequence of components which are custom designed for a specific client.
There is nothing wrong in co-relating shop drawings with pre-fabricated components utilized in building projects using software like Autodesk Revit and many more alike. No one can deny the fact that components of ductwork for a heating and cooling system, leading built-in appliances, counters, kitchen as well as bathroom cabinets, and even pre-fabricated windows and doors projects, can and are manufactured with help of one or other type of mechanical shop drawings.
These can be deemed to be the inception point for various others like, jigs and fixtures design, Machine tool design, rapid prototyping and many more.
So virtually, any and every kind of millwork entails the use of a shop drawing as a technique of producing components that are accurate and appropriate for the intended purpose – the product. Utilizing these components helps expediting construction, considering that the uniform dimensions of the components designed based on shop drawings meet the precise needs of the construction design.
Shop drawings also cater to minimize the waste during construction or a manufacturing project. This in turn helps keeping the project costs under control.