August 17th, 2018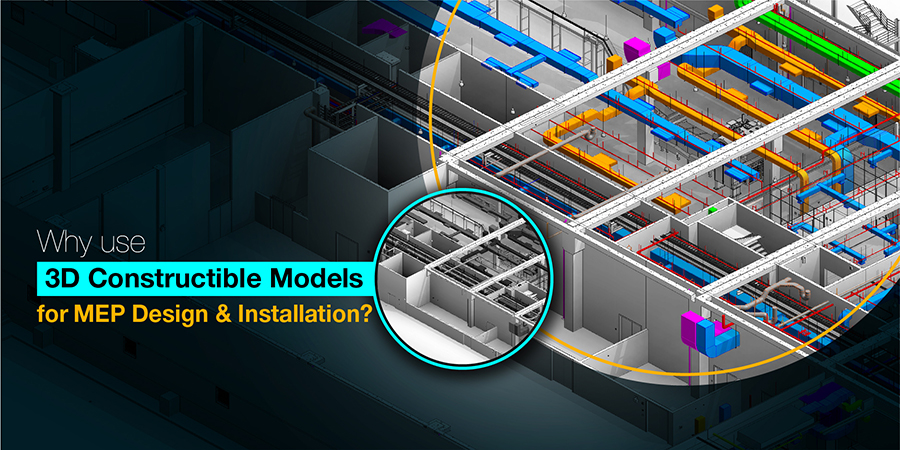 The present scenario in the construction industry is such that, every professional and every expert has to embrace the new working methods that have evolved due to industry wide digital revolution. MEP is clearly more complex and is crucial to a projects success. The team structure for MEP discipline is also complex and it includes MEP consultants, fabricators, MEP installation and maintenance experts and fire safety, trade specific sub-contractors.
MEP design conventionally has been a twin system wherein the MEP consultant develops plans and schematics to be passed on to the contractor for detailing, spatial coordination, fabrication and installation.
Due to which, MEP design drawings/models prepared by consultants will show no clashes as against the architectural and structural models/drawings. But in most of the cases, the MEP contractor will be compelled to change consultant's drawings so suit his requirements of fabrication, installation efficiency installation allowance and many more.
Ducts will have to be resized, pipework would be re-routed, datum point for hangers-wall penetrations and bolt locations will have to be added, electrical ladders will have to be split, equipments will have to be changed, etc. It all boils down to that the MEP design will have to undergo massive changes before detailed coordinated version is ready to be approved by MEP design consultant.
3D Constructible Models for MEP Design and Installation Experts
It is all the more important for MEP design and installation experts to embrace the technology influenced methods and make a smooth progression from 2D MEP drafts and drawings into well-coordinated constructible models.
Using constructible models for MEP is not new; information rich models are already being used for prominent and large scale projects across the world to coordinate, design and install mechanical – electrical and plumbing systems in an efficient manner.
However, due to lack of MEP BIM expertise and lack of infrastructure, a section of the industry still uses the age old traditional methods of design, planning and communication. This will however change, as the industry has several outsourcing options that allow firms to implement BIM across the project lifecycle and operational stages.
Benefits of BIM for MEP Design and Installation
For a construction project, it is extremely important that the MEP designs that are passed on to the MEP contractors are clash free. 3D BIM – constructible models here, play a crucial role.
MEP BIM can be viewed exactly the way it will look post construction in a 3D virtual ecosystem. Here due to the effective visualization, it is easy to spot clashes and mitigate them. The MEP designer and the contractor both can collaborate effectively to analyze the MEP systems in greater detail and implement both designer and contractor level changes like rerouting pipe work, resizing ducts, finalizing bolt locations, and implementing design changes for easy fabrication and installation efficiency in the early stages, before the projects goes onsite.
This ability of MEP BIM coordination eases out the challenges of developing a well-coordinated MEP design which includes, reduced onsite improvisation, rework and liabilities. It ultimately brings about major cost and time efficiency to the project. Other than using 3D model encoded with accurate dimensional data and for clash detection and mitigation, the objects are also encoded with a variety of attributes like energy performance data, component materials and finishes and cost information.
Hence the constructible 3D models prove to be pivotal in design and installation of MEP system that is sustainable. It also enables estimation of costs accurately and hence instances of busted budgets and failed or incomplete projects are very less.