BIM is Important for Smaller Firms as much as it is for Larger Firms
Posted by Jaydeep Chauhan on November 7th, 2016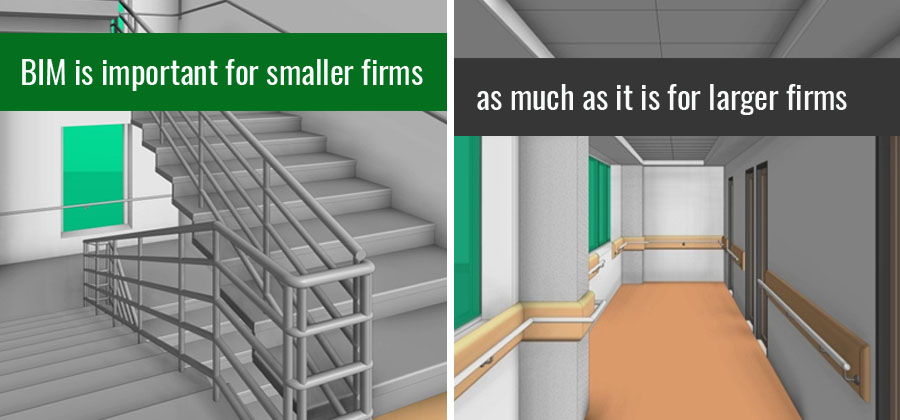 Implementing BIM builds trust and confidence in clients. BIM helps in maintaining long term client relationships as it enables project completion on time and in budget. It also enables client to generate precise, accurate and correct construction documents and cost estimation. They do not have to come up with contingency plans for building construction projects incepted initiated as 3D model, and are confident of the fact that the work that is put in Autodesk Revit LT will certainly succeed when built, as most of the challenged are sorted out even before going on the site.
However; the fact that needs consideration is that BIM has played an extensive role for large scale architectural undertakings most of the times, which also is a much known fact; but what about those small firms out there? A lot of them are still functioning at traditional level, with help of AutoCAD for projects across. This is due to the reason that these firms neither have the budget nor the expertise to transition to BIM. On the other hand, architects today are expected to deliver more and more, on time – every time. This makes BIM a mandatory aspect for small architectural firms as well.
Knockout Element
Architectural Design Firms and consultants are now using BIM on large projects for it has become a medium of transparent communication and coordination. BIM enables architects and contractors to work on 3D models, handling and managing a wide plethora of information. This is exactly what investors expect from them, in form of a detailed 3D model. At times the less knowledge about BIM to the clients is what works to the advantage of these architectural firms as they successfully encash the benefits of BIM to win such business deals.
Large architectural or construction projects if are required to switch from one platform to another, it seems to be a challenging task, but when small firms resist, it comes as a surprise. Everyone knows that BIM appeals far more if compared to CAD drawings, architectural firms can gain client confidence in their work. Also the fact that clients are more than interested in having control of building projects in terms of cost, plans, deadlines and what not, BIM is the ultimate solution.
Reduced requirement of feed backs, leading to cost-efficiency
On one hand where CAD is supposed to be drafting program, BIM is known to be an interactive, dynamic and responsive modeling program. Making alterations in a set of drawings would need them to go through each of them individually, study them and then make required changes. This obviously eats up more time and resources, as against the pre-defined and assigned. However; against these odds, BIM modeling is intelligent enough to identify the changes and update those, across all set of drawings simultaneously. This enables architects and contractors to focus more on various other important tasks.
Increase Outsourcing
Almost for all important and complex undertakings, computer renderings are requisites of any client who approaches architects or architectural firms. Not being BIM compliant can be quite a headache, and the same challenges are to be addressed while incorporating BIM in-house. Cost being the prime hurdle in this process, followed with training of onboard employees as the next. This makes outsourcing BIM modeling to be the best solution. Outsourcing BIM services is both valuable and cost saving for construction companies, architects, developers and contractors alike. Clients provide details such as CAD plans, drawings, and other construction details and parameters.
About the Author:
Jaydeep Chauhan
is an Engineering Specialist working at CAD Outsourcing Services. He caters critical engineering challenges with ease and performs exhaustive procedures to develop robust, well-engineered and high-performance designs. He can always be found in the lab discussing, brainstorming and tweaking designs.