Are You Wise Enough to Outsource CAD Drafting?
Posted by Nikunj Patel on November 30th, 2016
Outsourcing of CAD drafting is beneficial for all the manufacturers of mechanical components in terms of money, time, resources and quality.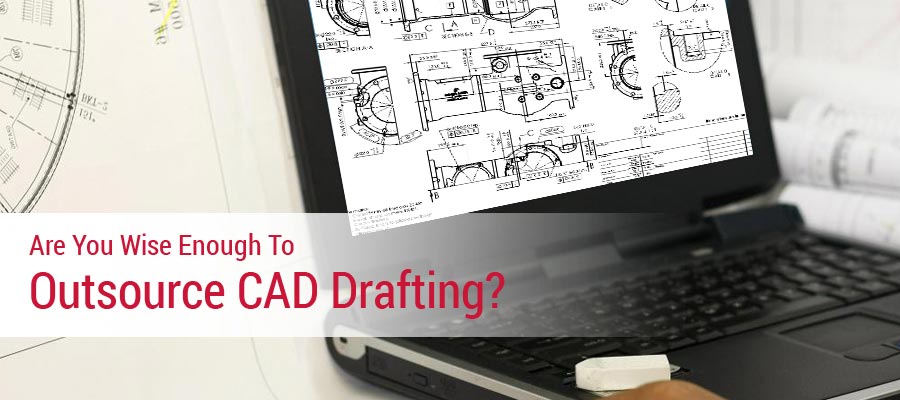 It has been quite a long time now since Computer Aided Designing – CAD has replaced conventional drafting processes. Companies today dedicate special units and hundreds of dollars to train their employees in order to harness CAD for designing mechanical products. But, it is really only fair to just hold and think for a while that what else can these resources do instead of simply getting trained to draft through computers?
While there are several firms across the globe that works actively in delivering finest CAD drafting services for their clients, it is not a wise option to allocate your resources in this area, unless the firm has demonstrated its experience in integrating design services with the actual product development processes like CAM and Rapid Prototyping.
Computer Aided Designing (CAD) accompanied with Computer Aided Manufacturing (CAM) is employed for fabrication of critical components that need exact and accurate dimensioning with precision manufacturing techniques. Furthermore, prior to manufacturing, these components are also required to undergo performance analysis tests, in a model based environment to check the design feasibility and limiting values of forces, loads and pressure. Plant owners, managing engineers, component manufacturers and engineering firms cannot afford to have compromises made over dimensioning, since it would result in disasters and even fatal accidents. They ensure that installation engineers and equipment handling engineers get the drawings with correct designs and dimensions developed by efficient designers.
For delivering accuracy in designing and precision in implementing CAM programs, an in-house team of trained CAD experts cannot deliver the same quality as experts can. Outsourcing your work to a firm that has team of efficient drafters with a fine professional understanding of mechanical drawings can be really fit for the job. Particularly for industrial and other automotive machinery manufacturers, outsourcing has proved to be beneficial in several aspects of time, money, infrastructure, business expansion and acquisition, developing and maintaining a brand value in market by experts' delivery of quality output.
Outsourcing for CAD and its benefits
Outsourcing essentially means, getting your designs drafted in computer software by some third element. This third element is no one but a firm with professionals equipped with latest technology software providing design support services for designs prepared by engineers. Design engineers at the outsourcing firm work with Autodesk AutoCAD, SOLIDWORKS, Solid Edge, Pro-Engineer, PTC Creo, to generate 3D CAD models by maintaining the confidentiality of your design. CAM programs are then generated using the dimensions and measurements of these models with accurate cutting, drilling and other information involved in manufacturing process.
Major benefit of outsourcing is that it saves a lot of money on licensing the software and infrastructure, particularly for small manufacturing companies who are trying to maintain quality output. Besides, the models prepared by these experts are accurate and checked for sustainability giving you an assurance for its performance. With accurate dimensioning, manufacturing of the component becomes easier and a sharp reduction in materials wastage is ascertained.
Alongside, outsourcing of design drafting provides manufacturing insight to engineers during the product development which enables them to bring changes in design during early stages. This can be done only when design engineers have a sufficient space to think instead of drafting. Thus, when drafting is outsourced, managers can allocate their resources in better works like working on design modification and changes for optimum results.
Other benefits
Along with betterment in functional aspects of component and ease for engineers in design changes, with outsourcing, one can save a lot of time during product development as many other activities can be carried out once the drafting process is handled by some third party. Besides for the manufacturers seeking one-time designing, or the ones involved in replicating the products, outsourcing can be the best option for cost-saving, instead of investing in software licensing, training and infrastructure.
In addition to this, the designs drafted from an outside source, maintain a quality and uniformity, since it is developed by experts dedicated for drafting purposes only. This is directly reflected on the quality of manufactured components and thereby creates a brand value in the market. The expertise of professionals empowers in raising the capability and scope of generating complex designs accurately. By associating with a third party, engineers and managers can instead focus on enhancing their business and optimizing their existing products by changes in design features. Outsourcing is a onetime investment, while on the other hand, if you are planning to have a team of in-house drafting and analysis, the costs pertaining to upgrading the technology and getting acquaintance of human resources with it is recurring.
To epitomize, it would be enough to say that outsourcing has become the method of modern business practices for achieving enhanced functioning and delivery of product. Outsourcing companies are making big profits only if they have the leverage to deliver the best and maintain confidentiality of the client's information.
About the Author:
Nikunj Patel
is a design engineer working with CAD Outsourcing Services for the past 4 years. He loves designing specialized industrial equipments and can always be found in the lab discussing, brainstorming & tweaking designs. He has also worked on architectural projects taking interest in every aspect of design & analysis.